DT Recumbents
Company Details
Ditton Trading P/L Trading As: DT Recumbents Australia
ABN: 56 616 118 417
Rothwell, Queensland
Australia

Manager: James Ditton
Phone: 0475 260 468
Email: sales@dtrecumbents.com.au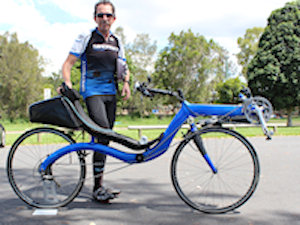 About DT Recumbents
DT Recumbents is a family business based in Redcliffe, just north of Brisbane QLD. We are dedicated to introducing and expanding the concept of comfortable cycling to all Australians, regardless of age, shape or physical limitations.
No more sore necks and wrists from hunching over; No more squashed "tender bits" and sore butts from hard, tiny saddles.
What we do:
Sale of Bacchetta and Performer Recumbent Bikes & Trikes, Greenspeed Australia Trikes, and the Rehatri trike range.
Sale of Bacchetta, Performer and Greenspeed parts and Accessories
Sales and Modifications of Trikes for people with Special Needs
Assembly of Recumbent cycles
Service of & Advice about Recumbent cycles
About James
I have been riding for most of my life (and yes, my legs are tired!). From the fixed gear/bmx for the ride to school and then onto upright racers for fitness & transport. Cycling has always been my prime form of exercise. I did a couple of the "Great QLD Bike Rides in the '90's - and could barely walk afterwards!
When family came along, I added the kid seat, and then the half-wheeler until they were solo and riding themselves to school. I kept riding, but was never really comfortable. I tried different saddles, handlebars, riding positions.
And then I heard about Recumbent bikes. A bit of research, and then I was the pround owner of a Performer HighRacer. I haven't looked back. I now ride an M5 Carbon HighRacer, and have indoctrinated my teenage son who now alternates between his upright for the school run and his Performer HighRacer for the fun rides.
The wife is a trike fan. She ensures all our newly-assembled trikes are in full working order by giving them a thorough test ride. Still working on the daughter......