Talk to us today about your particular requirements!

NDIS Self Managed or Plan Managed only.
Accessibility and Customisations Options
for those with Special Needs
Talk to us with your Health Care professional and we can help select the ideal products from our range of trikes and customisation options.
Delta Trikes
Handcycle & Tandem Options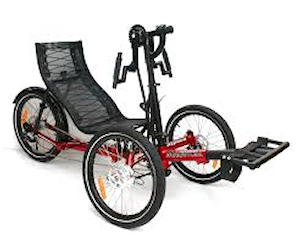 PRICE: AU$6000
AVAILABILITY: TBA
Based on the Magnum SD.
Details:

Based on the Magnum SD, the Handcycle has front steering with rear-wheel drive. It has a 7005 aluminium alloy folding frame for transport, and folding Crank and steering column to ease entry and exit.
It will take riders up to 180kg (400 lbs), and is suitable for touring, commuting, exercising and just having fun.
Full details from GreenSpeed.
Availability: TBA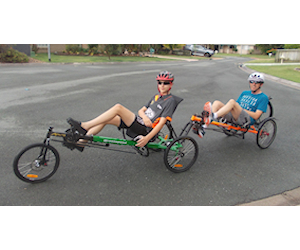 Contact us for a Price
Linked delta-style Trikes
Easily separated for individual riding.
Details:

This Tandem is made up of two delta-style trikes. The front wheel is removed and the forks attach to the rear of the lead trike. The removed wheel can be stored behind the seat so the trikes can become indepentent again easily.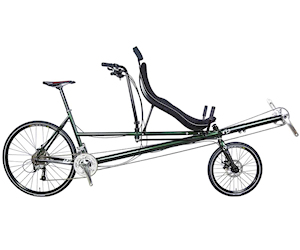 PRICE: From US$2650
Family Tandem
Front rider height limit of 150cm.
Details:

Upright section of the bike for adults up to 170cm tall.
Recumbent seat at the front is limited to riders a maximum of 150cm tall.
20/26" wheels
Availability: Email us to Order
See also our Trike Tandem option below.
Prices are subject to change without notice. AUD prices include GST. Domestic postage and shipping additional at cost.
Terms & Conditions. Enquire for full details.
Customisation Options